Product description
This multi-purpose quilted thermoset for children in a beautiful Baked Apple color can be used as a comfortable outdoor suit for all kinds of outdoor activities.
But also in the playground, during outdoor sports or as an underlayer for the cold season, this padded thermo set will keep your child nice and warm all year round. The set is lightweight and flexible, with a perfect fit.

Extremely suitable as a top layer as an outer suit, but also as a second layer of warm clothing over the underwear or as an extra layer with unlined outdoor clothing such as rain suits.

Optimally transports moisture and sweat to the outside. Comfortably warm with seams that don't chafe against the skin. Reflective stripes provide good visibility in twilight and dark.
Many combination options
On a rainy day you can wear thermal clothing under rain gear.
On cold days you can combine thermal clothing with a jacket or ski suit
On warmer days, you can use the thermal clothing as an outer suit or outer layer.
General
Breathable
Windproof
Thermo
Reflection
Jack
Contrasting stitching and a sturdy YKK zipper.
Soft ribbed collar and sleeve
Reflection on the sleeve
Adjustable elastic at the bottom of the jacket
Pants
Waterproof reinforcements on the knees and seat
Elastic waistband
Elastic on the trouser legs and sleeves
Reflection on the trouser leg
Material 100% Polyester
Size chart
Note: Celavi runs large, rather not order 'on the growth', then it is really too big. Clothing that is too large restricts movement, there is dust left and is not comfortable. The suits are already made to fit over your own clothes.
The size is the height of your child.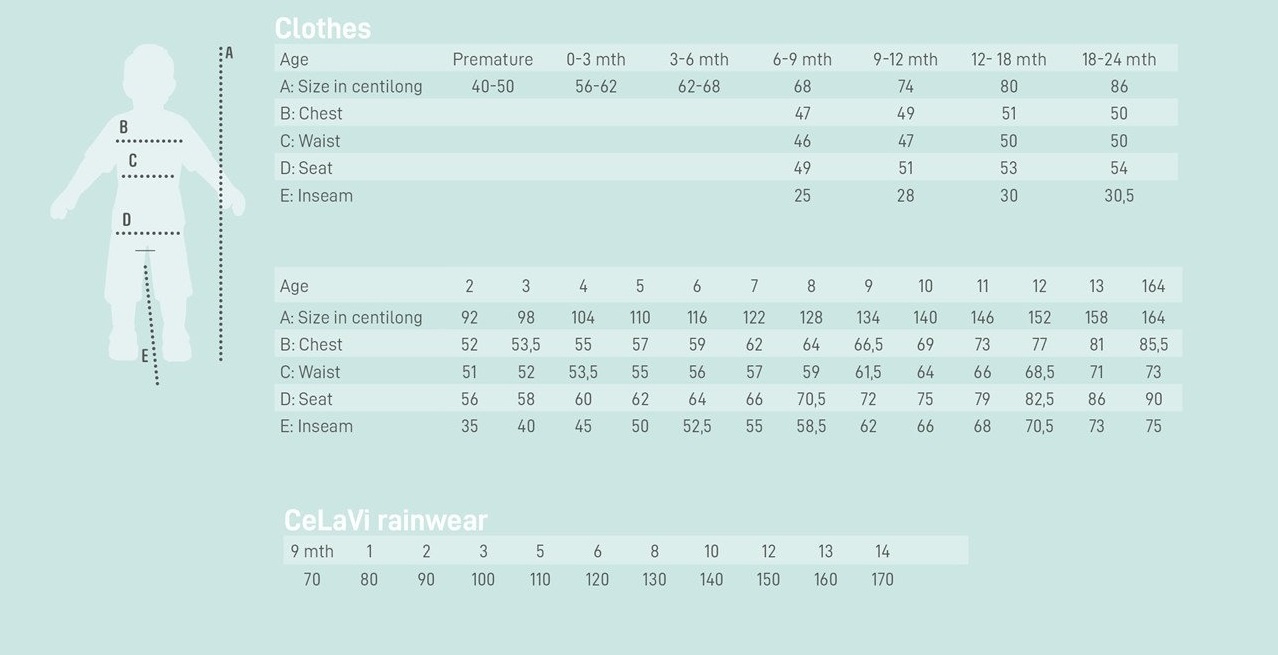 Celavi clothing and sustainability

Celavi's clothing is manufactured in a responsible manner. CeLaVi pays particular attention to reducing the impact on the environment. This is an ongoing process, in which they constantly evaluate their responsibilities and suppliers.

Celavi believes that these efforts are worthwhile, and that it is the right thing to do for the sake of both our children and the world in which we live.

One of their priorities is to ensure that their products do not contain harmful dyes and chemicals. They also emphasize the importance of not using nickel or dyes containing heavy metals in their products. Read more about Celavi
Save

Save

Save

Save

Save

`
CeLaVi buitenkleding

€25,00€34,95