Product description
Children's rain suit made of recycled materials | Dark blue
Durable children's rain suit in the super quality that I am used to from this Danish brand. Exclusive and eco-friendly PU rainwear made from recycled plastic. With this rainwear you contribute to reducing the pollution of air, water and land. Made from recycled plastic bottles.
The rainwear is of soft and durable quality. Due to the welded seams, it has a water column of 10000 mm, and the suit is of course waterproof. The raincoat has a practical quality zipper that is waterproof. Detachable and practical hood. The jacket has elastic at the wrists, hood and waist which keeps water and air out. Reflection on one sleeve, leg and reflective logo on sleeve, hood and leg. This reflection makes your child more visible in the dark. The rain pants in size 70-100 have adjustable elastic braces and press studs on each side. From size 110, the pants are without suspenders but with elastic at the waist.
In the transition period it can be practical to wear thermal clothing under the rainwear, there is enough space for that. All sizes have adjustable elasticated foot elastics, which keep the rain pants close to the rain boots while you jump in the water. If you, like CeLaVi, want to pay more attention to the future and the environment of our children, this rainwear is practical and environmentally friendly.
Characteristics
unlined two-piece rain suit in the color dark blue
waterproof up to 10000 mm water column!
detachable hood
adjustable elastic under foot
elastic in the sleeves and trouser legs
reflection on sleeve, trouser leg and chest
fleece lined collar for extra comfort
raincoat with zipper
rain pants from size 70 to 100 with suspenders
rain pants from size 110 no suspenders, but waist elastic
materials
Recycled polyester with PU coating.
Size chart general
The size is the height of the child.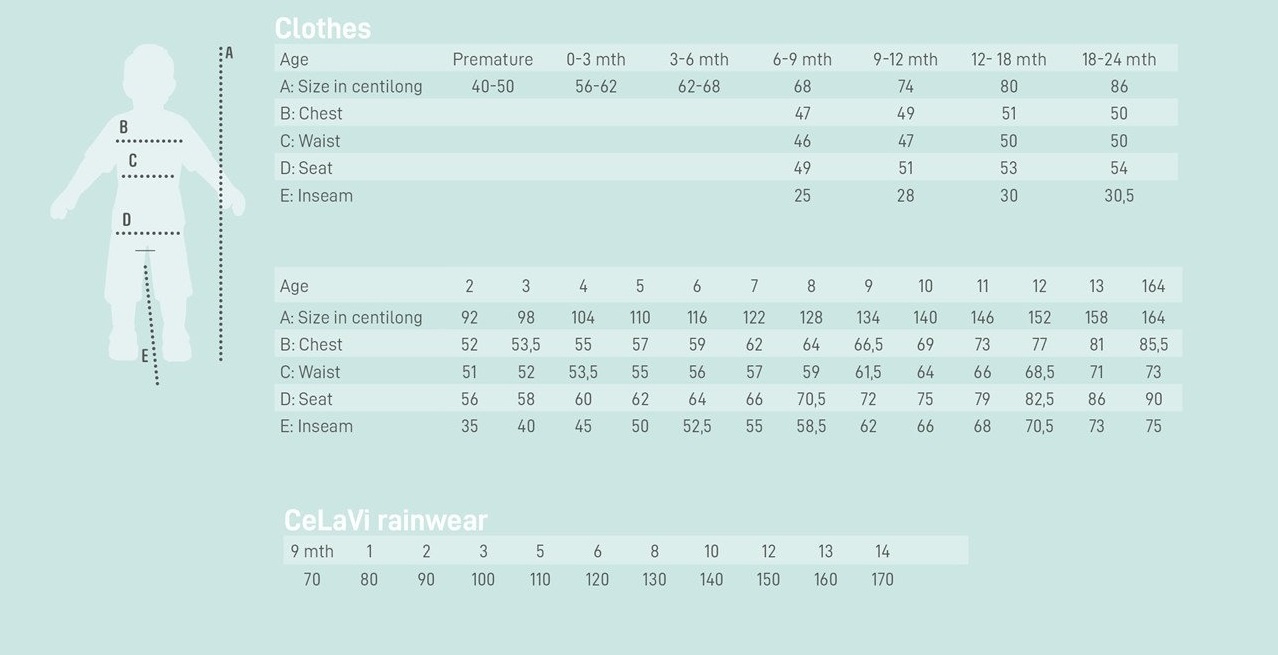 `
CeLaVi buitenkleding

€39,95€54,95