Children's overall dark blue
Product description
Dark blue children's overalls
Hip and cool dark blue / navy overall for playing outside. That's how you see your child bouncing around in that, right? Help with chores in the garden, play in the playground or go to the petting zoo? And...so practical! No more holes in the pants, no more grass stains that won't come out and for the little ones among us: great crawling without your beautiful pants or tights breaking!
Characteristics
colorfast due to polyester-cotton mix
concealed double-sided steel zipper
fixed elastic in back/waist
two breast pockets with flap and press studs
adjustable sleeve with press studs
two side pockets
touch two
a back pocket
ruler pocket
printing
Do you want extra text printing? Add an extra text printing through the product extra printing, which you can find here . Add this to your order and we will ensure that this print is printed on your overall.
If you order multiple overalls and multiple prints, please indicate in the comments which print should be printed on which overall.
If you are looking for children's overalls with an image or logo, go to the special categories for this. All options can be found here , in the main category.
Please note: personalized products cannot be returned.
Material
65% Polyester 35% Cotton
fabric weight 260 gr./m 2
Washing instructions
Wash at 40 degrees
preferably not in the dryer
production
Fairly produced, read more here .
Origin: China
Dimensions/model
The height of the child is the size.
Choose the size closest to your own clothing size. The sizes already take into account that clothing is worn underneath. When measuring your child, it is wise to measure with the clothing on , which is usually worn under the overalls.
Because the overalls have a loose fit, the intermediate sizes are no longer available. So there is no size 80, 92, 110, 122, 134, 146, 158 and 170.
The sleeves and legs are long, the waist is slim.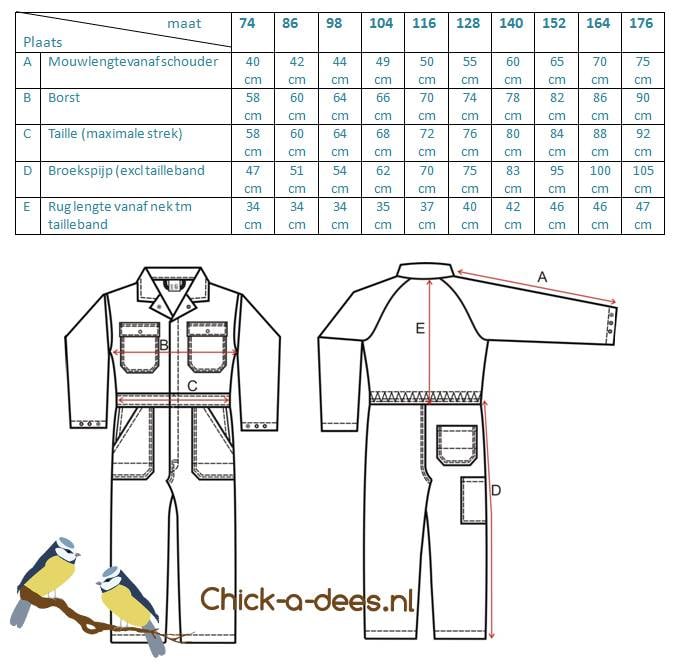 save
save
save
Maat klopt volledig niet. Net als de overals voor volwassen personen.

By Kris

21 / Nov / 2022

Zeer goede kwaliteit, mooie kleuren. 2 blije zonen!

Leuke overall, goede kwaliteit, fijne dikke stof. Kunnen kinderen uren buiten mee spelen!

Hij valt wel klein, dus een maatje een groter dan je gewend bent te kopen is wenselijk

Heel blik met deze perfecte overall. Tailleert groot maar pijpjes kunnen opgerold worden en op deze manier kan je ze toch op maat kopen.

Ik vond de communicatie via mail wat kort en onvriendelijk. Uiteindelijk wel zeer tevreden met het eindresultaat.

Heel tevreden! Mooi afgewerkt, pasvorm perfect!

Mooie degelijke overall voor het buiten spelen (kruipen). Goede service en prima prijs

mooie kwaliteit overall. Niet helemaal 5 sterren omdat de mouwen en pijpen erg lang vallen. Vandaag besteld de volgende dag al in huis en ook nog mooi ingepakt ook. Aanrader!!

Prachtige kwaliteit snelle levering

Ik ben nog in het buitenland. De overall is afgeleverd bij ons logeeradres waar we in juli verblijven.

De overall ziet er leuk uit. De mouwen en broekspijpen zijn nog een beetje erg lang en naar verhouding is het lijfje vrij strak.

Zie titel. Mooie overalls. Praktisch, zoalf je verwacht. Ook 'normaal' en niet kinderlijk, wat ik juist waardeer.

Goede kwaliteit en zeer leuke overall voor de allerkleinste

Overall

Prima, heel persoonlijk en snel, veel succes!

Stevig, degelijk en ook de kleur was precies zoals op het plaatje. Helemaal top dus

snelle levering en ziet er goed uit !

Goede service en snelle levering. De broekspijpen zijn te lang in verhouding tot de romp van het pak.

leuk en prima kwaliteit en pasvorm

goed product, snel geleverd.

prachtige kwaliteit

Super mooie bedrukking. Snelle levering. En correct. Een echte aanrader. Echt leuk om cadeau te doen of te krijgen

Snelle levering en mooie kwaliteit voor een goede prijs.

goed, mooi en snelle levering!

ziet er super uit!

snelle, goede service. Aanrader!

tevreden klant

Snelle levering en erg mooi geworden!

Inmiddels al meerdere overalletjes cadeau gegeven en elke keer is het een groot succes! De service is top, snelle levering (zelfs als het een echt last-minute cadeau is), het wordt leuk ingepakt en de kwaliteit van zowel de overall als de bedrukking is goed!

Super! Snel binnen. Mooie kwaliteit. Ik ben blij met jullie

Mooi product maken jullie! Goede afwikkeling, fijn dat er gecommuniceerd werd over afwijkende procedure ivm ziekte. .... Tevreden!

Goede kwaliteit en pasvorm. Snelle levering!

product snel geleverd voor 4uur besteld en de volgende dag in huis. product ziet er goed en degelijk uit.. zal weer bestellen

Klantvriendelijke en duidelijke website, snel bestellen en snelle levering. En de overall ziet er top uit. Dus... Op zoek naar een leuke, originele, persoonlijke en degelijke overall, dan kun je hier met een gerust hart bestellen.

Prachtige stoere overalls van een mooie kwaliteit. We zijn er erg blij mee!!

Een overall besteld voor mijn kleinzoon! Mèt z'n naam op de rug, hij is pas 2, maar vindt m erg fijn om te dragen!

Goed

Leuke overal maar zit vrij strak aan de elastiek op de rug.

- Heel vriendelijk contact - Super snelle levering naar België« - Een heel mooi Kerstkado voor mijn metekind!

- 3 kinderoveralls besteld voor onze 3 jongens - Erg mooi verpakt als Sint kadootje, met het correcte naamlabel per kind. Dankjewel, ik kom terug ! :-)

Heel mooie stevige schattige overalls!

By T K.

26 / Nov / 2015

Snelle levering en product van prima kwaliteit

Het is kwalitatief erg goed en een super mooi design! Hij zit qua bewegen voor ons mannetje soms wat nauw bij de schouders maar daar heeft hij geen last van. Dit kom overerigens doordat hij zich zittend voortbeweegt. Ik had een maat 92 voor mij 10 maand oude zoon (die maat 74/80 heeft). Een aanrader! Snel geleverd ook!

mooie overall in een mooie marine kleur! Overall valt erg mooi, met wel lange pijpen en mouwen, maar ideaal want j kunt ze mooi omslaan. Zo kunnen ze hem extra lang aan. Ook mooi getailleerd met elastiek in de middel. TOP

By I K.

24 / Mar / 2015

het zijn leuke overalls. ze vallen zeer in de smaak bij mijn kleinkinderen, maar in tegenstelling tot wat er bij de aanbeveling wordt gezegd is onze ervaring dat ze vrij smal vallen en het is niet goed mogelijk er gewone kleren onder te dragen. dus meer voor de zomer met niets eronder.

Dit is een beoordeling over het pak èn de service! Vrijdagmiddag na 1600 uur besteld en zaterdag al om 1200 uur binnen!! perfecte service, wow! Het pak is ook helemaal top, heel mooi model, mooie kleur en heel netjes afgewerkt. Zeker de moeite waard!!
`
Chick-a-dees

€24,95