Product description
Pink children's overall
Hip and cool pink overall to play outside. Don't you see your child playing around in that? Want to help with chores in the garden, play in the playground or go to the petting zoo? And ... very practical! No more holes in the pants, no more grass stains that no longer go out and for the little ones among us: enjoy crawling without breaking your nice pants or tights!
Properties
colourfast due to polyester-cotton mix
concealed double-sided steel zip
fixed elastic in the back / waist
two breast pockets with flaps and press studs
adjustable sleeve with press studs
two side pockets
two intast
a back pocket
ruler pocket
Printing
Add a loose (text) print by means of the product extra print, which can be found here . Add this to your order and we will ensure that this print is placed on your coverall.
If you are looking for a children's overall with an image or logo , go to the special categories for this. All possibilities can be found here , in the main category. Note: personalized items cannot be returned.
Material
65% polyester 35% cotton
fabric weight 260 gr./m 2
Washing instructions
Wash at 40 degrees
rather not in the dryer
production
Fairly produced, read more here.
Origin: China
Dimensions / model
The height of the child is the measure.
Choose the size that is closest to your own clothing size. With the sizes it has already been taken into account that clothing is worn underneath. When measuring your child, it is wise to measure again with the clothing on , which is usually worn under the overall.
Because the overalls are loose, the intermediate sizes are canceled. So there is no size 80, 92, 110, 122, 134, 146, 158 and 170.
The sleeves and legs are long, the waist is slim.
Note: personalized items cannot be returned.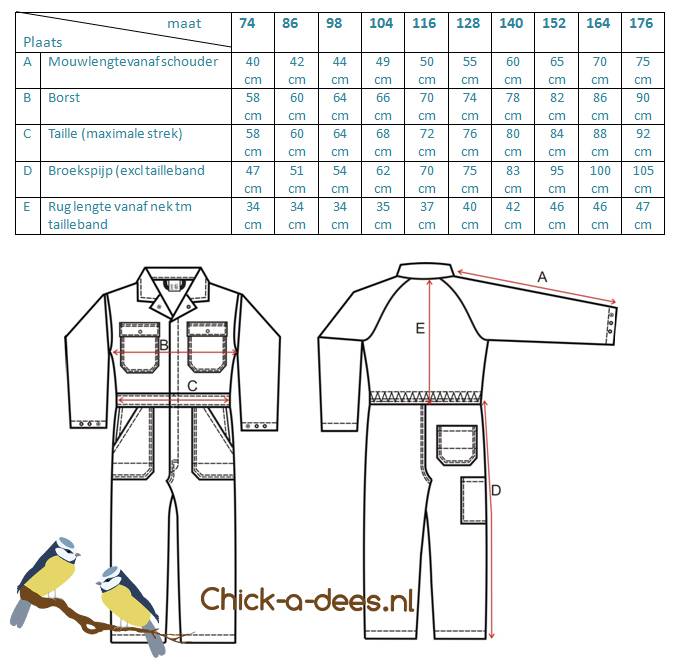 To keep
To keep
To keep
Chick-a-dees

€22,50