Product description
Pink children's overalls
Hip and cool pink overalls for playing outside. That's how you see your child bouncing around in that, right? Help with chores in the garden, play in the playground or go to the petting zoo? And...so practical! No more holes in the pants, no more grass stains that no longer come out and for the little ones among us: wonderful crawling without your beautiful pants or tights breaking!
Characteristics
colorfast due to polyester-cotton mix
concealed double-sided steel zipper
fixed elastic in back/waist
two breast pockets with flap and press studs
adjustable sleeve with press studs
two side pockets
touch two
a back pocket
ruler pocket
printing
Do you want extra text printing? Add an extra text printing through the product extra printing, which you can find here . Add this to your order and we will ensure that this print is printed on your overall.
If you order multiple overalls and multiple prints, please indicate in the comments which print should be printed on which overall.
If you are looking for children's overalls with an image or logo, go to the special categories for this. All options can be found here , in the main category.
Please note: personalized products cannot be returned.
Material
65% Polyester 35% Cotton
fabric weight 260 gr./m 2
Washing instructions
Wash at 40 degrees
preferably not in the dryer
production
Fairly produced, read more here .
Origin: China
Dimensions/model
The height of the child is the size.
Choose the size closest to your own clothing size. The sizes already take into account that clothing is worn underneath. When measuring your child, it is wise to measure with the clothing on , which is usually worn under the overalls.
Because the overalls have a loose fit, the intermediate sizes are no longer available. So there is no size 80, 92, 110, 122, 134, 146, 158 and 170.
The sleeves and legs are long, the waist is slim.
Please note: personalized items cannot be returned.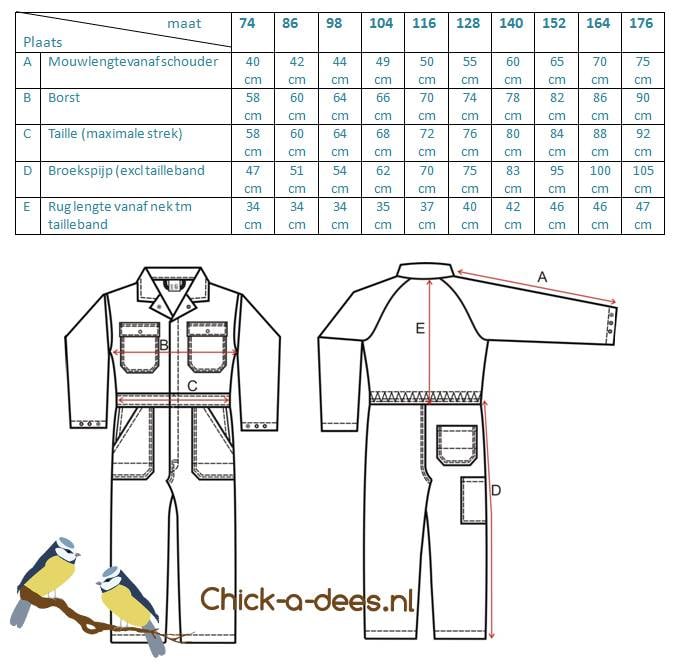 save
save
save
By lies

20 / Feb / 2023

zit perfect kleindochter is er heel blij mee.

Blij van aankoop. Maat valt groter.

Goede en snelle levering

Snelle en nette levering.

Mooie overalls. Snelle levering! Goede kwaliteit.

i was looking for colored overalls for my niece to wear as part of a costume, but couldn't find any sold in the USA. These are perfect, and afterward she can just wear them to play in.

Donderdag besteld en vrijdag was hij binnen! Geweldig!!

de overall is snel en keurig afgeleverd.

Overal is van goede en stevige kwaliteit.

Super leuk overall! Staat mijn dochter ook erg leuk! Geen op of aanmerkingen

Valt wel groter! Maar wel mooi verder!

Mooie kleur en erg leuk gemaakt, met allerlei zakjes en een stevige rits.

De overall heb ik op zondag besteld en is dinsdagavond als brievenbuspakket bezorgd. De overall valt ruim en vooral de mouwen en broekspijpen mogen een stukje korter worden gemaakt.

Overall is heel leuk. Zeker met de tekst erop. Ik vond alleen de broekspijpen wat wijd en heb die een paar cm ingenomen.

I ordered an overall with name on. Thank you for the quick shipping. It is so helpful that we can order in English,too.

ergleukmijndochtervindthemergmooi

Super snelle levering!! Goede kwaliteit!! Heel tevreden en zeker voor herhaling vatbaar.

Ben heel erg te spreken over de overall, precies de goede kleur en maat. Levering op een ander adres is ook goed gegaan. Blij mee, bedankt

Mijn bestelling was niet helemaal compleet ontvangen. Snelle nalevering volgde. Goede service. Kwaliteit van de kleding is ook goed

By P B.

01 / May / 2015

Het bestellen ging vlot en een snelle levering. Ze vallen zeer ruim, met name de mouwen en pijpen. Stofkwaliteit is goed.

Prima!
`
Chick-a-dees

€24,95