Precidio
Gezondere kinderen en een gezondere planeet, het is wat alle ouders willen.Take a small step in that direction with Juice in the Box . The reusable beverage pack for children, (homemade) juice, water and lemonade. Incidentally, the name was changed to Drink In The Box.


Healthier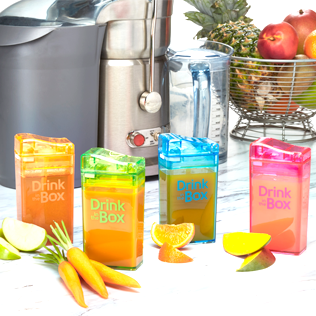 Most packages contain juice drink with lots of sugar, which can lead to obesity, cavities in teeth and less healthy children. Juice in the Box you determine the contents of a packet of drink and you can make them much healthier, for example, with less or no sugar. Children love a nice package to use: it has deliberately familiar format, often experienced as a festive moment, and it is available in four bright colors: green, pink, blue and orange.
Durable
Nearly 130 billion disposable drink packets are discarded annually, of which only 24% is recycled. Moreover a drink pack is very difficult to break down: it contains six layers of packaging paper, plastic and aluminum. As a result it takes nearly 300 years to break down one drink disposable pack.

Juice in the Box is reusable and reduce as much waste into our environment.
It is made of nearly indestructible Tritan, it is BPA and Phtalatan-free, dishwasher safe and leak-free. Ideal for a waste-free lunch and handy for traveling.
Reusable and almost indestructible
Transparent - you can see what you drink
Button - easy and fun to open
Easy to clean and dishwasher safe
Leakproof - lockable lid and straw
Filling line
Material: almost indestructible Eastman Tritan
Contents 2.36 dl
Weight: 85 grams
Size: (LxWxH) 7 cm x 4.4 cm x 13.3 cm
Stainless steel hinges
100% silicone rim and spout
Polypropylene straw
Suitable for children over 3 years.
Juice in the Box is door de Canadese vader Marc Heike bedacht en ontwikkeld (Precidio Design). Hij streeft ernaar om zaken te doen met de hoogste ethische normen, met respect voor zakelijke partners en met aandacht voor onze gedeelde sociale en ecologische verantwoordelijkheid: "Wij geloven dat zakendoen met respect voor mens, milieu en winst blijvende waarde zal hebben en wederzijds voordeel creërt."
---