Children's overalls with a Dutch motif
Product description
Children's overalls with a Dutch motif
Properties
colorfast due to polyester-cotton mix
concealed double-sided steel zipper
fixed elastic in back/waist
two breast pockets with flap and press studs
adjustable sleeve with press studs
two side pockets
touch two
a back pocket
ruler pocket
printing
Do you want extra text printing? Add an extra text printing through the product extra printing, which you can find here . Add this to your order and we will ensure that this print is printed on your overall.
If you order multiple overalls and multiple prints, please indicate in the comments which print should be printed on which overall.
If you are looking for children's overalls with an image or logo, go to the special categories for this. All options can be found here , in the main category.
Please note: personalized products cannot be returned.
Material
65% Polyester 35% Cotton
fabric weight 260 gr./m 2
Washing instructions
Wash at 40 degrees
preferably not in the dryer
production
Fairly produced, read more here .
Origin: China
Dimensions/model
The height of the child is the size.
Choose the size closest to your own clothing size, or one larger. The sizes already take into account that clothing is worn underneath. ALWAYS measure.
When measuring your child, it is wise to measure with the clothing on , which is usually worn under the overalls.
Because the overalls have a loose fit, the intermediate sizes are no longer available. So there is no size 80, 92, 110, 122, 134, 146, 158 and 170.
The sleeves and legs are long, the waist is slim.
Please note: personalized items cannot be returned.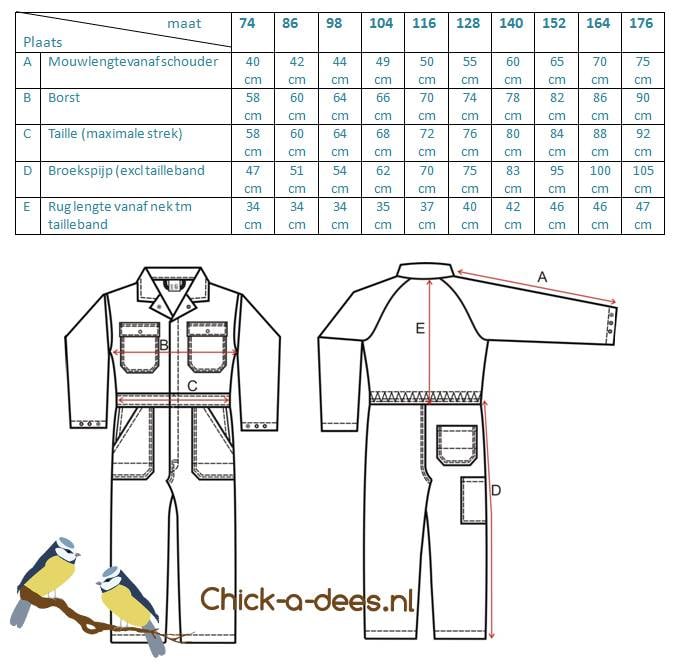 SaveSaveSaveSaveSave
Deze overall is alles wat we hier in Griekenland Zakynthos nodig hadden. Onze kleine helper kan nu nog beter ravotten. Goed stevig materiaal en inderdaad bleek de maat prima te zijn maar erg lang. Mits de temperatuur het hier toelaat kan hij er erg lang mee doen. Jammer dat de mouwloze tuinbroeken niet in kleinere maten beschikbaar zijn.
`
Chick-a-dees

€32,50