Fuchsia Pink Dungarees | unisex model | ladies and gentlemen
Product description
Dungarees in fuchsia pink. Original for a party or a carnival parade.
Fashion model
At the front, the entire chest area has a large pocket that can be closed with press studs. The dungarees are spacious and can be worn over your own clothing.
Characteristics:
two side pockets
two pockets (open pockets so you can easily reach the pocket of the pants you wear underneath)
ruler pocket
back pocket
adjustable shoulder straps
65% polyester/ 35% cotton
280gr/m2
printing
You can easily add a print to the front by adding the product print dungarees to your shopping cart. We take care of printing the text on your dungarees.
Prefer a logo? Feel free to send us the logo by e-mail to discuss the printing options. There are also various other options to provide the trousers with printing or embroidery. We would like to refer you to the information on the special page about this.
Size chart
The dungarees are a unisex model. The sizes are so-called men's sizes, the conversion to women's sizes is stated after the men's sizes in the size selection.
Men's size 50 is the same as women's size 40, men's size 48 is the same as women's size 38, men's size 52 is the same as women's size 42, and so on.
 

GENTLEMEN

size 44

GENTLEMEN

size 46

GENTLEMEN

size 48

GENTLEMEN

size 50

GENTLEMEN

size 52

GENTLEMEN

size 54

GENTLEMEN

size 56

GENTLEMEN

size 58

GENTLEMEN

size 60

GENTLEMEN

size 62

GENTLEMEN

size 64

GENTLEMEN

size 66

Jeans size men
--
--
28
30
32
34
36
38
40
42
44
46
Confection size ladies
34
36
38
40
42
44
46
48
50
52
54
56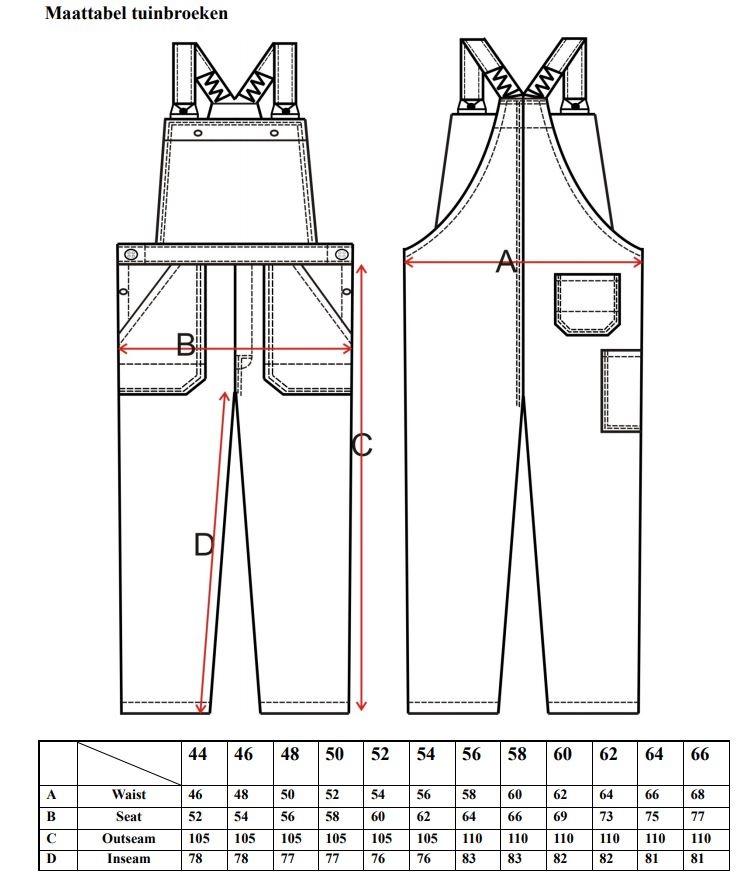 Past goed over mn kleding en zit lekker
`
Chick-a-dees

€29,95