Product description

Duukies Beachsocks are the must-have for the beach and the pool this season. You have a lot of fun! The beachsocks are best described as a mix of surfboards, water shoes and socks. No more annoyance that sand and shells in your water shoes come and chafe and also no annoying buckle. Everything is soft and feels like a second skin. Never different!
These beachsocks Blue Rose in light blue with pink accents, protect against hot sand, sharp shells, splinters and stones. But also against that annoying sea urchin in the Mediterranean. An additional advantage: your feet are also protected against sunburn. Take the beachsocks to the pool and avoid slippery parties on slippery floors.
Duukies Beachsocks are made of nylon and neoprene, allowing them to dry quickly and provide perfect protection. They fit well around the child's foot, the elastic band keeps the beachsocks around their feet and they do not fall out while swimming. An additional advantage is that no sand or shells can enter that can start to rub.
Every pair of Duukies Beachsocks has a handy and flexible wristband. You can enter information like name and phone number on this, handy on a busy beach or at the pool!
Characteristics
protection against sharp stones, shells and hot sand
more grip due to anti-slip sole
uv protection UPF 50.
easy on and off
flexible sole
dries quickly
adjoining: sand and shells can not get into the sock
cheerful colors and designs
with FREE wristband on which you can write your name and telephone number.
Material
Nylon and neoprene (synthetic rubber).
Washing instructions
Wash / rinse in cold water after each use by hand. Let it dry.
Custom advice
Duukies tend to fall small . For example, if you are looking for size 24, then you need Duukies size 24/25. If your child has a size 25, choose 26/27.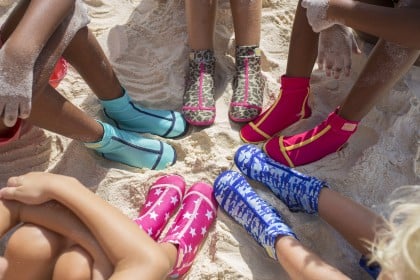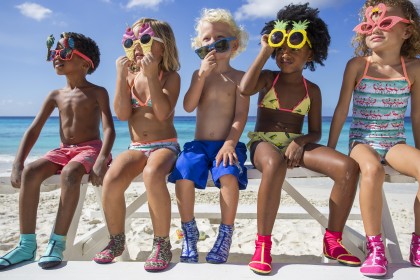 Prachtige strand slofjes voor onze dochter, ze vond ze gelijk al prachtig. Meegenomen naar Zanzibar, prima aan t zwembad, en strand. Lopen lekker licht. Aanrader
`
Scrunch

€4,75€5,95

Playshoes

€18,50€21,50

Playshoes

€18,50€21,50
Duukies

€16,50€19,95