Product description
Reusable mouth mask | washable | with filter | Perezoso Teal
MasksForAll - Eco friendly hygienic mask
MasksForAll hygienic and ecological masks were created by Amy Holden from Barcelona. A mother who was looking for quality masks for her children. The masks had to be more comfortable and greener than disposable mouth masks. Amy couldn't find what she was looking for and decided to get started herself. The mouth-makers for children are ecological, 100% cotton with Oekotex 100 standard, are equipped with a good filter and are also available in a lot of prints and colors. Read her story here.
The mouth caps or masks are made of two layers of fabric between which a filter can be used. The inside of the mouth mask is provided with an anti-bacterial layer. This layer lasts for at least 25 washes. Then you can use the filters if you want. The filter layer is inserted inside and is replaceable.
Properties
two layers and exchangeable filter
mouth mask covers mouth and nose
water-repellent, anti-bacterial inner lining
elastic cords for behind the ears
reusable & washable at 60 degrees, not in the dryer
including three interchangeable filters
complies with specification UNE0065: 2020 EN14683
Non-woven spunbond dust filter 55 g / m2
Composition
outside 100% cotton
inside 100% organic cotton Oekotex standard-100, water-repellent and antibacterial and surgical finish
> 94% filtration
Non-woven spunbond dust filter 55 g / m2
Use
wash or disinfect hands before & after use
remove / discard filters after use
wash the mouth mask after use
Read this instruction.
Filters
The masks are provided with an anti-bacterial layer on the inside. This lasts for at least 25 washes.
Then you can use the filters. The mouth caps including the filters are not suitable for medical purposes. Additional filters can be ordered in packs of 100.
Size chart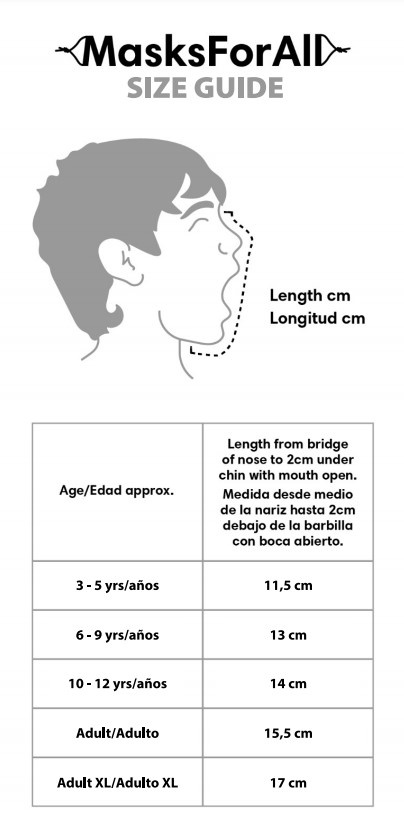 You can find the dimensions of the masks themselves here .
Feel good masks
For every 10 masks * sold, one is donated to aid organizations.
The masks are not suitable for medical purposes and therefore have no influence on the shortage of medical mouth masks
* wholesale
Please note: hygienic items such as mouth masks or filters, etc. cannot be returned or exchanged.
Warning
This product is not a toy. It should not be used in children under 2 years of age. When put on in children, it should be used under adult supervision at all times. Never leave a mask on a sleeping / drooling baby / child. In addition, the mask should not be applied to people with respiratory distress or who are unconscious, incapacitated or unable to remove the mask unaided, as there is a risk of suffocation as it may get wet and block the ability to breathe through the mouth. nose. This mask should not be used for industrial or medical purposes as it is not approved for such use. Do not share your mask with anyone, even after washing, each mask is for individual use.
This device is not a medical device within the meaning of Directive 93/42 or Regulation EU / 2017/745, nor is it personal protective equipment within the meaning of Regulation EU / 2016/425. MasksForAll masks meet the UNE 0065: 2020 specification Reusable hygienic masks for adults and children. Requirements for material, design, manufacture, marking and use.
WorldAlive

€4,95€10,95