Product description
Sample sale overalls
These overalls can be ordered once for a special price. Each coverall is unique and can therefore only be ordered once in this sample sale. The overalls are new and used for promotion and can therefore be purchased at a greatly reduced price. All these overalls are personalized and are therefore not eligible for return / withdrawal.
An overview of all overall colors can be found here .
Characteristics
colourfast due to polyester-cotton mix
concealed double-sided steel zipper
fixed elastic in back/waist
two breast pockets with flap and press studs
adjustable sleeve with press studs
two side pockets
two indents
a back pocket
ruler pocket
Please note: these personalized products cannot be returned.
Material
65% polyester 35% cotton
fabric weight 260 gr./m2
Washing instructions
Wash at 40 degrees
preferably not in the dryer
production
Fairly produced, read more here .
Origin: China
Size/Model
The height of the child is the size.
The sleeves and legs are long, the waist is slim.
Choose the closest own size or one larger as much as possible. It is better to choose a larger size than the overalls are too small.
When taking measurements, it is wise to measure with the clothing on , which is usually worn under the overalls.
There are no in-between sizes . So there is no size 80, 92, 110, 122, 134, 146, 158 and 170.
Please note: personalized items cannot be returned.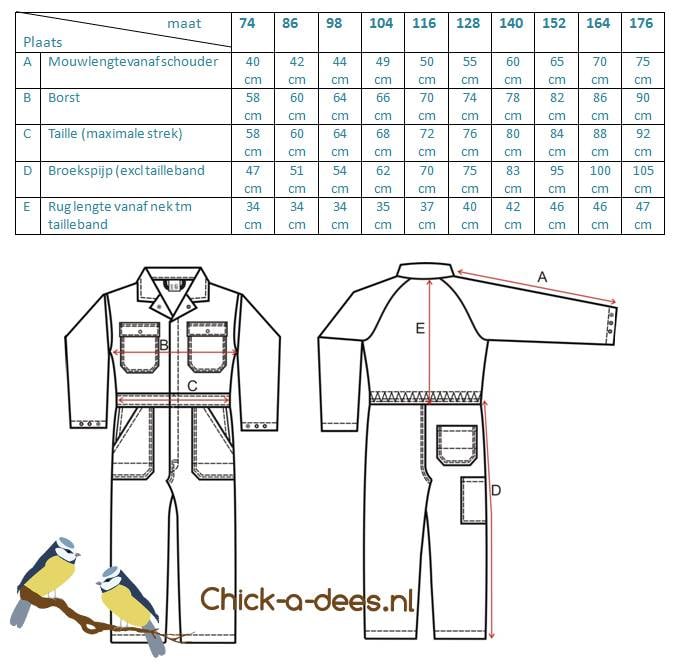 Save

Save

`
Chick-a-dees

€24,95€34,95