Product description
Children's one-piece rainsuit | Mineral Yellow
What a great one-piece children's rain suit for little explorers. What a great one-piece children's rainsuit for little explorers. This suit is available in various colors , an overview of all possible colors can be found here .
The Danish brand Celavi produces rainwear with an eye for details. For example, the hood is provided with elastic and fits well to the head, no gust of wind blowing your hood off. The collar around the neck is provided with nice soft fleece and there is a protective cap on the top of the zipper. This prevents irritation to the chin.
Carefree into the rain with this lovely suit, you can step in, zip and press studs and go! If you want to use the suit in winter at cold temperatures, combine it with thermo or extra fleece layers. Celavi has a wide choice in this.
Characteristics:
wind and waterproof
unlined
adjustable foot elastic
zipper with storm flap and press studs
detachable hood with elastic, works with press studs
reflection on sleeve, trouser leg and chest
waterproof up to 5000mm
welded seams, water has no chance
Free of PVC, nickel, phtatalates and azo dyes
the suit can withstand temperatures from -20grdnC to 40grdnC without compromising on the material.
There are also mittens and rain slippers in the same colors as the rain gear . These keep your child's hands or feet comfortably dry and warm
To be complemented with thermal overalls of the same brand. This combination ensures that your child stays comfortably warm and dry even in cold temperatures!
There are also mittens and rain slippers in the same colors as the rain suits. These keep your child's hands or feet comfortably dry and warm.
Material
100% Polyester
Coating: 100% polyurethane
Washing instructions
wash at 40 degrees, no spin (delicate wash)
do not use fabric softener, this is at the expense of the fabric and waterproofness
not in the dryer
Use
if wet, hang out after use
do not dry over direct heat source
Size chart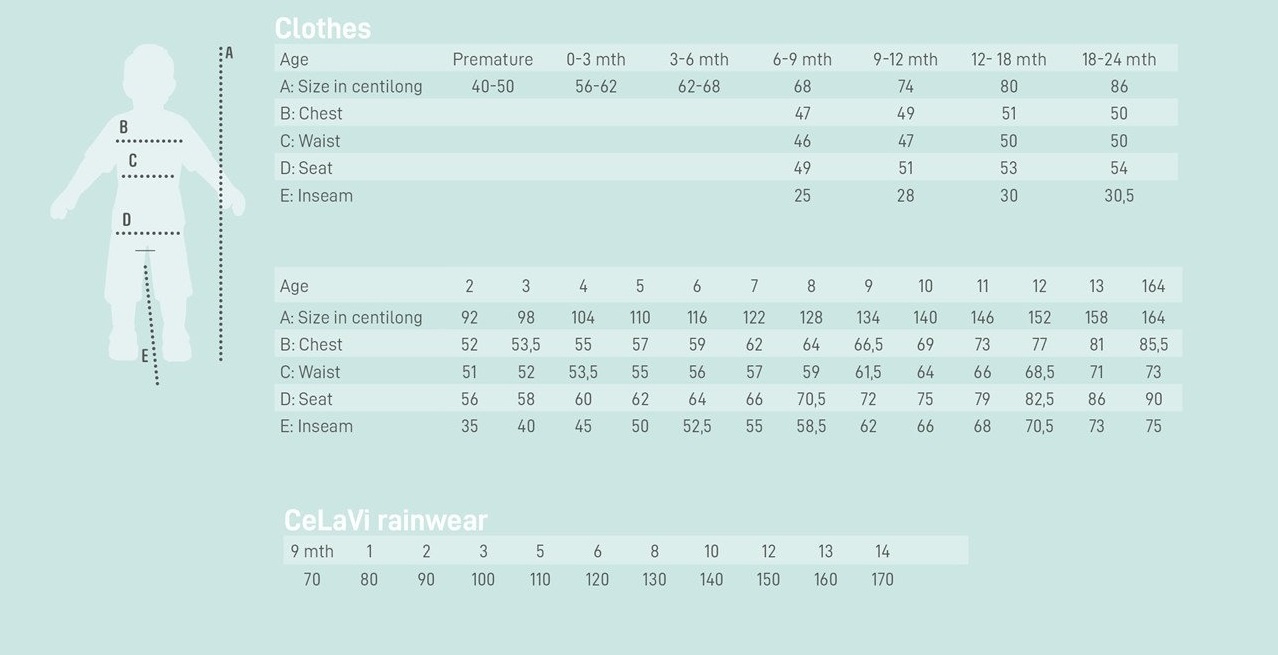 Celavi clothing and sustainability

Celavi clothing is produced in a responsible manner. CeLaVi pays particular attention to reducing the impact on the environment. This is an on-going process, in which they constantly evaluate their responsibilities and suppliers.

Celavi believes that these efforts are worthwhile, and that it is the right thing for the sake of both our children and the sake of the world we live in.

One of their priorities is to ensure that their products do not contain harmful dyes and chemicals. They also stress the importance of not using nickel or dyes containing heavy metals in their products. Read more about Celavi

 
Ik werd online super geholpen bij mijn keuze. Het regenpak werd ook supersnel geleverd. Helemaal top. Onze zoon Ry heeft het pak ook al getest met extreme puddling en bleef lekker droog in zijn pakje.

Wij zijn heel blij met deze regenoverall. Maat 100 valt lekker ruim bij mijn dochter met maat 98/104, dus die kan nog even mee! De stof voelt heel fijn, makkelijk aantoe trekken, ontzettend leuk kleurtje en natuurlijk waterdicht! En geen klamme kleding. Ook sterk, al een paar keer mee gevallen maar gelukkig nog geen spoortje te zien van schade!
`
CeLaVi buitenkleding

€11,00€16,95

MIKK-LINE

€50,00€79,95

CeLaVi buitenkleding

€11,00€16,95
CeLaVi buitenkleding

€38,95€54,95