Sustainable rain suit ECOSPLASH | Teal Topo
Product description
Sustainable children's rain suit ECOSPLASH Teal Topo
What a great waterproof and lined rain suit for babies and young children. The Ecosplash is a fully waterproof rain suit in green / blue also called teal, waterproof zippers, taped seams and is also durable . The fabric used for this suit is recycled. It is called Topo because when you look on a map the heights are indicated by lines like this.
The suit is also breathable , so no sweat in a suit that is too warm. Is it very cold or is your child sitting in the buggy for a while? The built-in mittens and loose 'feet' ( only size 0-6 and 6-12 months ) keep your child comfortable and warm.
The Ecosplash suits consist of a series of different designs, an overview of all options can be found here .
In brief:
Sustainable: Made from state-of-the-art recycled fabric
Waterproof up to 5,000 mm
Windproof
Breathable 3000gm2
Taped seams: not a drop of water that can get through here
Waterproof zippers in contrasting colors
Contrasting elastic edges around the sleeves and hood
Contrasting fleece lining
Reflection on the sleeve and zipper for better visibility
Waterproofness and technical composition
The Ecosplash rain overall is waterproof up to 5000mm. The lined rain suit has a waterproof DWR coating (Durable Water Repellent coating) that penetrates into the fabric so that it forms a honeycomb structure with billions of micropores.

The pores are too small for water droplets to pass through (making them waterproof), but large enough to allow moisture vapor to pass through (allowing them to be breathable).
The rain suit is windproof, due to the welded seams and the storm flap that prevents the wind from blowing through the fabric. The suit insulates well, and forms a perfect extra warm layer during cold days due to the lining of 170gsm micro fleece.

Other important technical features in the design include YKK Yank proof zippers: they can take a beating. The suit is provided with reflection on the zipper and sleeve for extra visibility in twilight and on dark days.
Composition
Exterior
- 260t polyester ponges (special weaving technique)
- 5000 water resistance and 3000 breathability

Hood & lining
- 100% polyester micro fleece 170gr

Sleeve lining:
- 100% polyester
- 260T polyester ponges
- 3000 waterproof, 3000 breathable


Size chart
Need help with the sizes? Below is a general size chart which can be used. It is the size chart for the entire brand. These suits go up to size 3-4 years.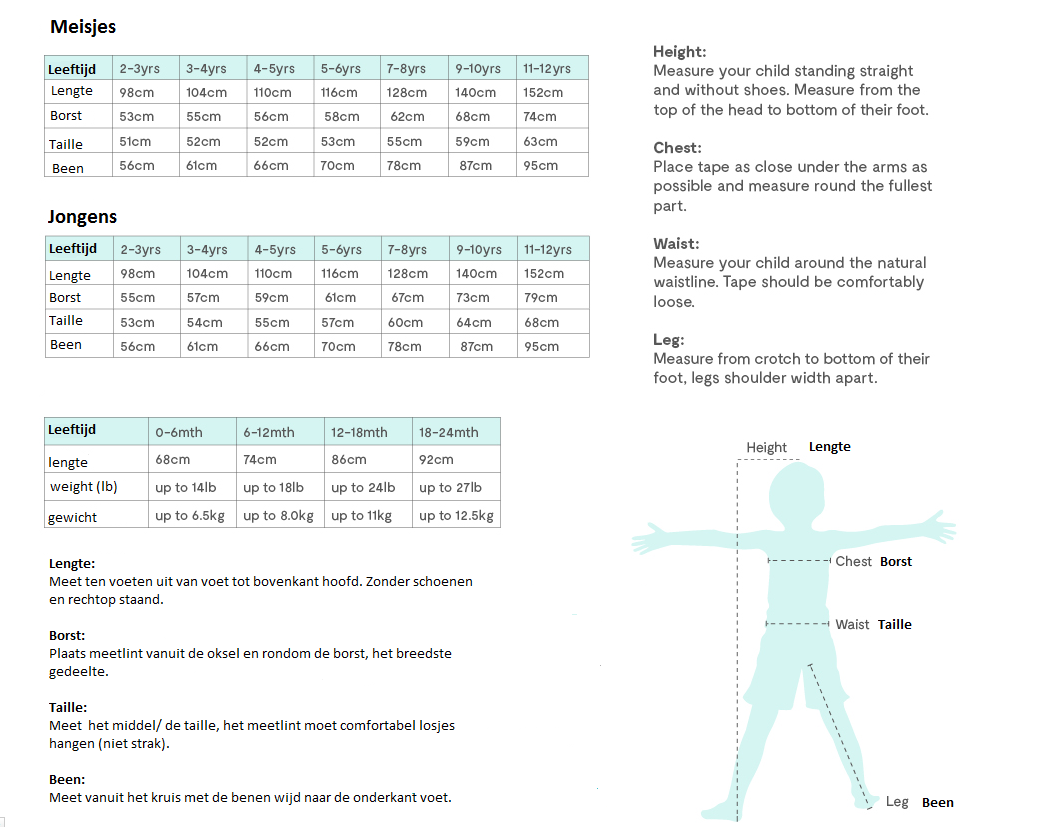 To keep
To keep
To keep
To keep
To keep
To keep
To keep
To keep
To keep
To keep
To keep
To keep
To keep
To keep
To keep
To keep
To keep
To keep
To keep
To keep
To keep
To keep
To keep
To keep
To keep
To keep
To keep
To keep
To keep
To keep
MP buitenkleding

€62,50