Product description
Drink in the Box drinking pack with fun top
drinking pack with fun top
reusable and sealable while drinking
made of almost indestructible Tritan
wide straw for smoothies, for example
anti-drip straw with valve
easy to keep clean
really leak-proof
dishwasher safe
happy colors
handy format
BPA Free and Phthalates Free
choose T-rex, Unicorn or panda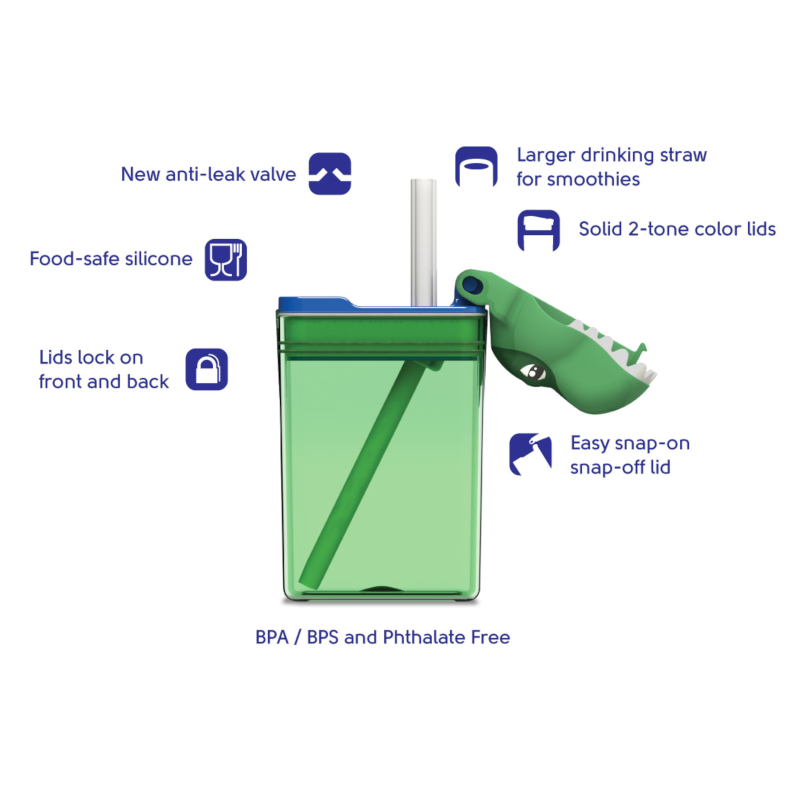 Refillable drinking pack
Drink in the Box is the alternative to disposable drinking packs. Disposable drink packs generate a lot of waste and are often filled with drinks with a high sugar content. Drink in the Box can be filled endlessly with your own (healthy) drinks such as fruit juices.

Ideal for on the road, to school or an outing. The package can be filled again and again and thus prevents a lot of waste!
Knowing more? I wrote an extensive blog about it.
Specifications
Material: almost indestructible Eastman Tritan
Content: 235 ml
100% silicone rim & spout
Polypropylene straw
BPA Free and Phthalates Free
for children from 3 years old
Note: Drink in the Box can not be boiled or cleaned with a steam cleaner. This causes deformation of the product. Place Drink in the Box on the top rack in the dishwasher, older models of dishwashers are often too hot at the bottom because of the heat spiral at the bottom of the dishwasher.
You can find the most frequently asked questions in my blog: ' FAQ New Drink in the Box '.
Ge weldige boxjes voor de kids! Wat waren ze blij en wat zijn ze handig.

Leuke drinkbekers het openen door kindjes zelf wel wat lastig Goed materiaal

Deze Fun top (Panda)variant is moeilijk te openen voor mijn zoon van 5. Hij ervaart op dit moment meer frustratie dan fun en dat maakt het uiterlijk niet goed helaas. We hebben het product pas een paar dagen dus blijven nog even oefenen. Met de reguliere variant, waar ik er ook één van heb, ervaart hij geen enkel probleem. Ook ik had er in eerste instantie moeite mee, want het precieze drukpunt is niet direct duidelijk en komt nauw. Ik overweeg nu om er nog een losse reguliere top bij te kopen.
`
Expeditie Natuur

€5,00€5,95
Precidio

€12,95€14,95