Children's overalls in camouflage colors
Product description
If you wear this coverall in camouflage colors nobody will see you. So hop into nature, and don't forget your compass and binoculars! Camouflage overalls are available in sizes 74 to 176 in beautiful colors; brown-sand-black-green.
The overall is made of 65% polyester and 35% cotton, which ensures, among other things, that the color remains beautiful. Washable at 40 degrees Celsius, do not tumble dry. With concealed press stud fastening, fixed elastic in the back and waist. Two slanted chest pockets with zip, two side pockets, two inserts, back pocket and ruler pocket.
printing
Do you want extra text printing? Add an extra text printing through the product extra printing, which you can find here . Add this to your order and we will ensure that this print is printed on your overall.
If you order multiple overalls and multiple prints, please indicate in the comments which print should be printed on which overall.
If you are looking for children's overalls with an image or logo, go to the special categories for this. All options can be found here , in the main category.
Dimensions/model
The height of the child is the size.
The sleeves and legs are long, the waist is slim.
Choose the closest own size or one larger as possible. Better to choose a larger size than the overalls are too small.
When taking measurements, it is wise to measure with the clothing on , which is usually worn under the overalls.
There are no intermediate sizes . So there is no size 80, 92, 110, 122, 134, 146, 158 and 170.
Please note: personalized items cannot be returned.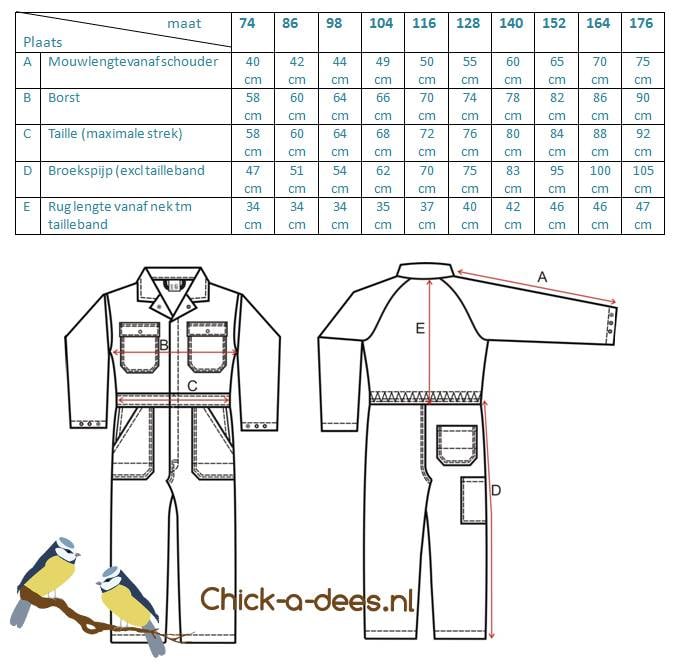 save

`
Chick-a-dees

€29,95€29,95