Misan Keller - 01 / May / 2020
Een bedrukte hamer; origineel cadeau voor Vaderdag
Het was denk ik rond 1980 dat ik samen met mijn vader en broertje hele dagen aan het klussen was in de schuur. Spijkers uit oud hout halen, een duivenhok timmeren voor verdwaalde duiven en later maakten we met gevonden hout een echte hut in de tuin.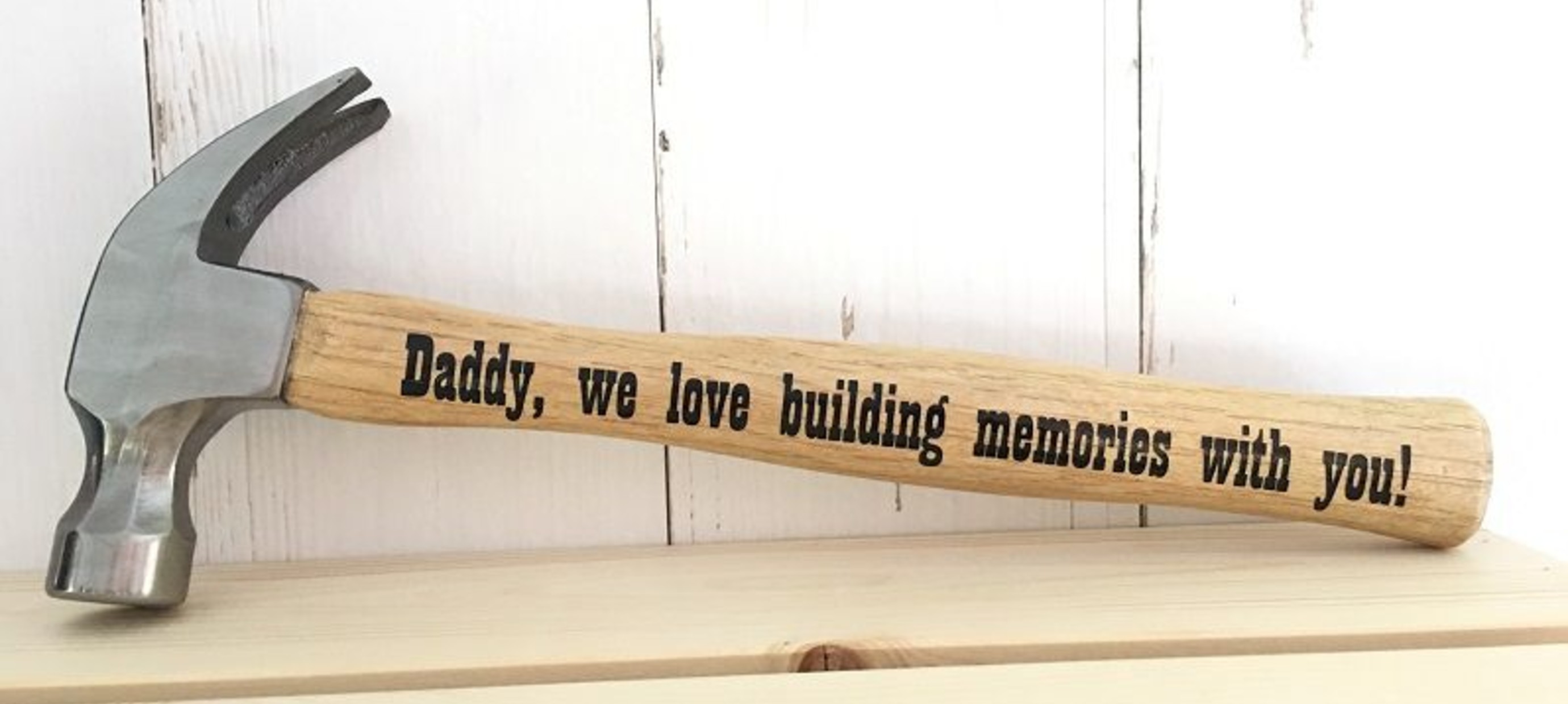 Het waren mooie tijden waar ik nog met veel plezier en weemoed aan terug denk. Samen met mijn vader een beetje rommelen aan de werkbank in de schuur, een oude typmachine uit elkaar halen of een grasmaaier. Prachtige herinneringen.
Uniek Vaderdag cadeau
Zo kwam ik op een mooi idee voor vaderdag, of elke andere dag, het ligt er natuurlijk maar net aan met wie je natuurlijk aan het klussen bent. Het idee is een mooie kwaliteit klauwhamer waar je een leuke tekst op kunt laten 'drukken'. We hebben een aantal teksten bedacht, maar je kunt ook een eigen tekst laten drukken op de hamer. Bijvoorbeeld: Dad, I love building memories with you! Papa, op jou kan ik bouwen of Mijn papa kan alles.
De hamer is een zgn klauwhamer. Handig met het verwijderen van spijkers en natuurlijk het timmeren van een leuke (boom)hut. Het is dus een hamer die je goed kunt gebruiken, of voor de sier kunt ophangen natuurlijk.
De hamer is een kwaliteits klauwhamer met een tekst in zwarte vinyl letters op de houten steel. Er is keuze uit drie lettertypes. Mocht je net iets anders willen qua kleur of lettertype, dan horen we dat graag. We zijn meesters in maatwerk.
Gereedschapskisten
Al een aantal jaren heb ik stoere kisten in het assortiment. Deze worden vaak cadeau gegeven bij een geboorte met de naam van het kind er op maar de kratten zijn voor vele doeleinden te gebruiken én te personaliseren.
Een stoere kist of krat komt ook altijd van pas. Voor gereedschap, hobby spullen of wat dan ook. Hier kun je ook helemaal je eigen draai aan geven: een eigen tekst, lettertype en de kleur van de tekst.
Vanaf dit jaar (2020) komt daar een echte gereedschapskist bij. Voor los gereedschap met een handige handgreep. Zo neem je het gereedschap wat je het meeste gebruikt makkelijk mee. 
De gereedschapskist met handgreep is ook weer te personaliseren met veel verschillende lettertypes, teksten en kleuren. Nu nog kiezen...
Mini-me
Wil jouw zoon of dochter samen met papa (of mama) klussen dan heb ik ook hele mooi oplossingen voor kleine handjes.
Zoals een gereedschapsgordel of een echte gereedschapskist voor kinderen. Beiden met écht gereedschap dat gebruikt kan worden om te helpen.